August 4, 2020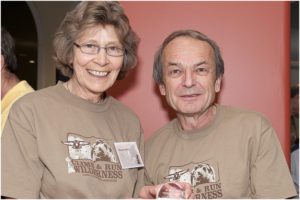 It is with great sadness and fond memories that we say goodbye to longtime volunteer and dear friend to AWA, Margaret Main.
Those of us who have participated in AWA events in and around Calgary over past several decades will surely recall on numerous occasions being greeted by her warm smile and helped by her omnipresent cheerful enthusiasm.
She has been always present, and always ready with a helping hand at our talks program, the erstwhile Masters of Teaching program, the Martha Kostuch Annual Wilderness and Wildlife Lecture, AWA's annual Wild West Gala, and many more events. Even as those events developed over the years and changed in response to the changing times, one constant has always been Margaret's presence.
However it is with the Climb for Wilderness that Margaret's name is near-synonymous, and specifically, the 14 years of Mural Competition at the Calgary Tower.
As one who spearheaded the initiative in 2003 to broaden the activities surrounding the Climb for Wilderness, the results were quintessentially Margaret. Over the following decade and a half, the drab concrete stairwell on the inside of the Calgary Tower was turned under her guidance into a place of joy and beauty, with figurative (and illustrated) flowers blooming in a place of monotony. Thanks largely to Margaret's ongoing efforts, year after year, to keep the contest going and the paint flowing, climbers at the tower were able to truly enjoy their outings in the tallest art gallery in the world. In this way, with over 140 murals completed in the tower, Margaret truly and literally, made her mark on the Calgary landscape.
With the majority of tower painters in the mural competition being school-aged, it was entirely natural that Margaret would take on this leadership role. In her life outside AWA, Margaret's other great passion was for teaching, and for her students: over the years Margaret taught at several Calgary elementary schools, finding her calling teaching and mentoring children in schools with under-served community members.
As an avid letter-writer, Margaret also maintained lifelong friendships and long-distance family relationships.  Margaret loved to spend time birding with friends and hiking in the Canadian Rockies with family and friends—all of whom will miss her dearly.
As AWA's Adventures for Wilderness continue to fill the calendar of the new decade, we will remember the roots of this program and some of its early days under Margaret's kind watch. We are honoured to have known her, learned from her and will remember her forever.
Margaret Main
October 10, 1935 – July 15, 2020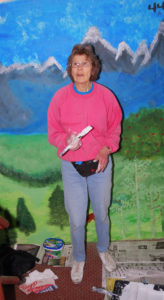 If friends so desire, Margaret's family would like to remember her passion for wilderness and wildlife with memorial donations to the Alberta Wilderness Association.
Gifts may be made online at www.albertawilderness.ca/donate or by mailing to:
Alberta Wilderness Association
455 – 12th St NW, Calgary AB T2N 1Y9