June 27, 2020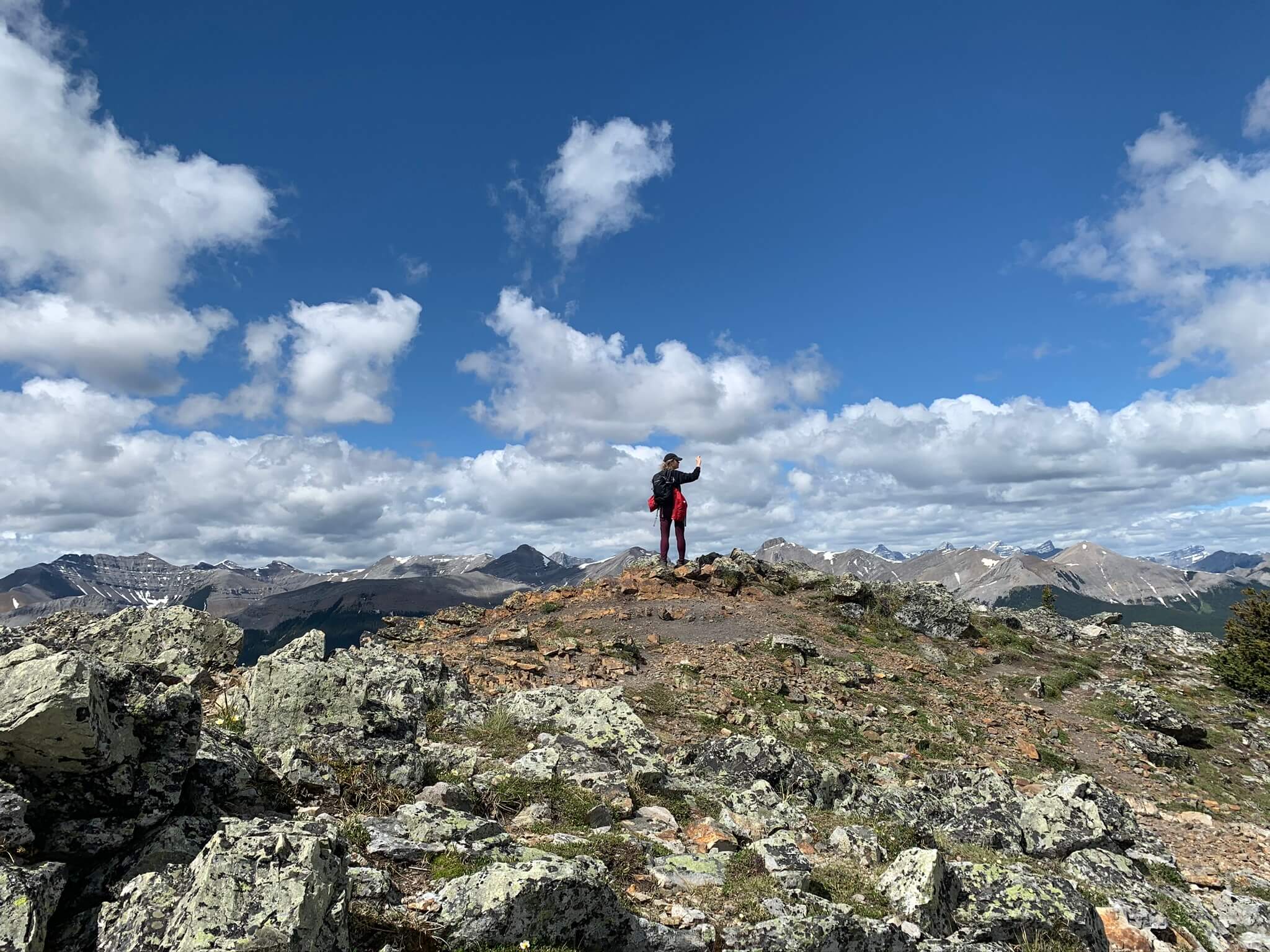 With Chris Saunders, on June 27th, 2020
Spectacular views and forest issues
At about 10 am on June 27, 2020 14 hikers assembled on the Powderface Trail ready to start on the path up Jumping Pound Mountain from the west. The weather was warm and sunny, contrary to the day's weather forecast for Calgary.
We walked steadily uphill through beautiful mature forest, comprising largely lodgepole pine and spruce, with trees of different ages and sizes. At times the path followed clear bubbling streams, and at others there were gaps in the trees to see views of ranges of mountains to the west. After 2.5 km we arrived at the flower-strewn meadows on the west side of Jumping Pound Ridge with spectacular views of Moose Mountain and its various ridges to east. We followed the path through the meadows to the summit, an altitude gain of 417 metres (1,370 feet). After 20 minutes of absorbing the 360 degree views of mountains and prairie at the summit we followed a ridge further east to a meadow where lunch was eaten. A portion of the group took a short excursion further east along the ridge to see an exceptional meadow of flowers, again with superb views in all directions.
After lunch we returned to the summit and set off to the north along Jumping Pound Ridge. The mountains to the west and north, along with the building clouds, made for some spectacular views. However, the destruction of huge patches of forest in the valley between the ridge and the mountains to the west, through clear cut logging was only too evident. Among other things this logging has destroyed the habitat of wildlife, created significant topsoil erosion and silting of streams, and ruined the forest's delicate filtration system which provides important flood protection. The group asked does the value created from the timber products obtained from the logging in any way offset these losses?
The route continued along the open ridge for a further 3 km with short sections through spruce trees and a climb down a big shaded snow patch. The trail then went back into the forest and descended into the valley through many switchbacks. In one section it passed directly through the devastation of a recent clear cut with no evidence of any replanting. It is clear it will take many years for new trees to grow to replace the forest lost.
As we arrived at the finish point heavy rain started to fall. We had an excellent day with exhilarating views and beautiful carpets of flowers on the ridge and summit. We had also seen at first hand the costs of logging in the area.