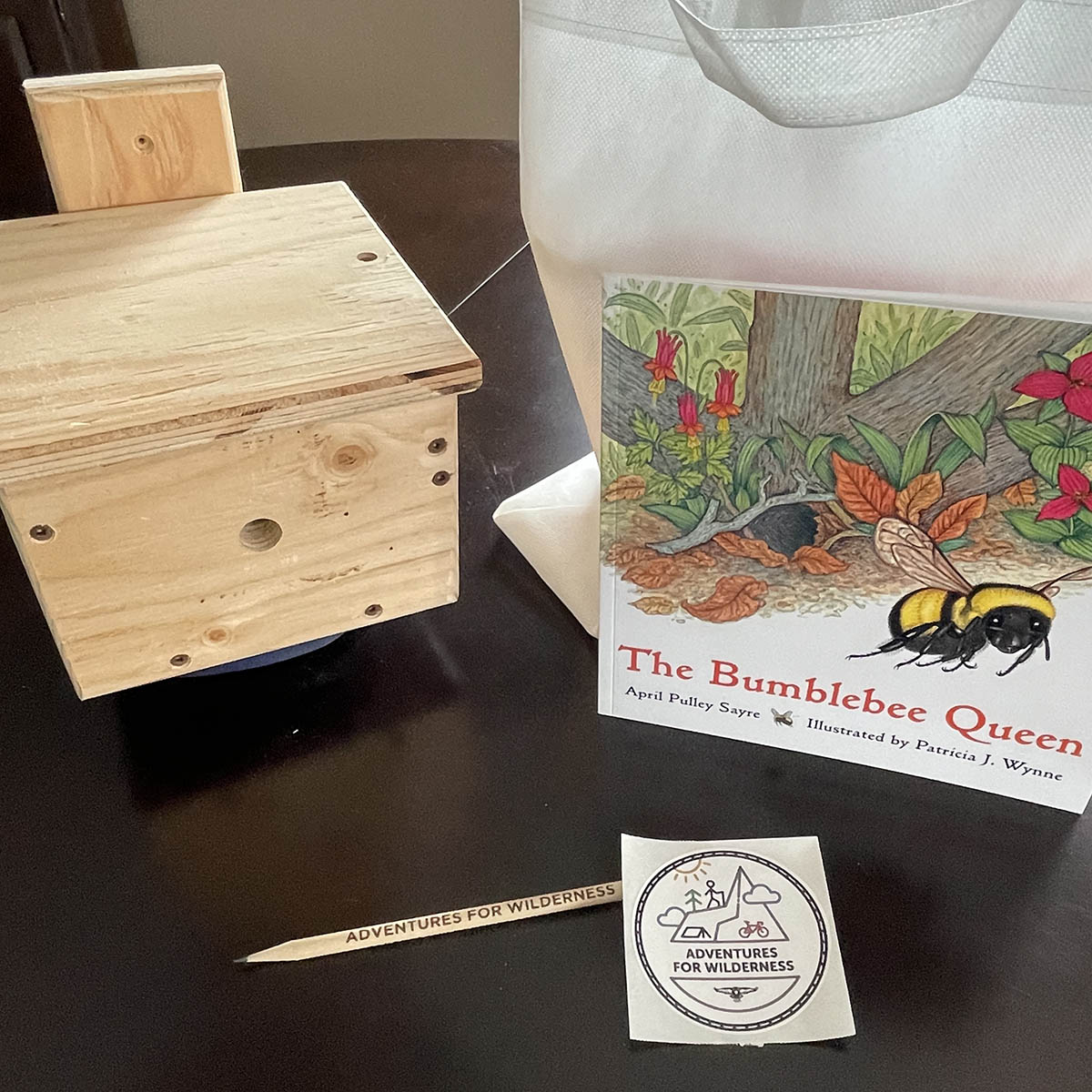 Date/Time
26 Mar 2022
We're sorry; registrations have closed for this adventure.
Join this Adventure Saturday, March 26th at 10 am for a fun filled hour of storytelling, learning about Alberta Native Bees and making your very own bee box!
When you register for this Adventure you will receive a Citizen Science Kit that includes the book  "The Bumblebee Queen" by April Pulley Sayre, a specially branded Adventures for Wilderness pencil, and all the supplies you need to make a native bee nesting box with Heather. The pre-cut and pre-drilled wooden pieces, screws and a screw driver, and specially sourced cotton wool for nest building will help you build a perfect home and place for native bees to nest.
Minimum sponsorship for each Alberta Native Bee Adventure registration is $30.  More than one person can join in from home via zoom, but if you want to have a second Citizen Science Kit you will need to register and pay the minimum Adventure Sponsorship for each participant (all sponsorships are tax deductible donations and we hope you will be generous and sponsor your child for more than $30.)
In the coming months we have more Kids Citizen Science Adventures that will be posted and include fun topics like Innii (Bison), Grizzly Bears, Alberta Orchids, Squiggly Snakes, Water bugs and Trout and their Streams, Little Brown Bats and Woodland Caribou.
By joining these adventures you will learn about Wild Alberta, have fun learning about wildlife and landscapes and how to be a citizen scientist. Each Adventure includes videos, stories, facts and a "kit" with craft materials, a book and more.  You can register for all of these Adventures - most often the Adventure will be on the last Saturday of the month.  There is no Kids' Citizen Science Adventure in July or December of 2022.
When you register, your kit will be delivered to your home if you live in the Calgary area, if not we can arrange to send by mail for a fee or you can pick up your kit at the AWA office in Calgary.
AWA volunteers, staff and content experts will be included as the lead teacher for each Adventure.
Coordinator
Heather Hadden
Fundraising Goal
Why Sponsor This Adventure?
Why Join This Adventure?
Adventure Metrics
Required Equipment
Other Kids' Citizen Science Adventures
Contact this Coordinator
---

We're sorry; this adventure is fully booked.